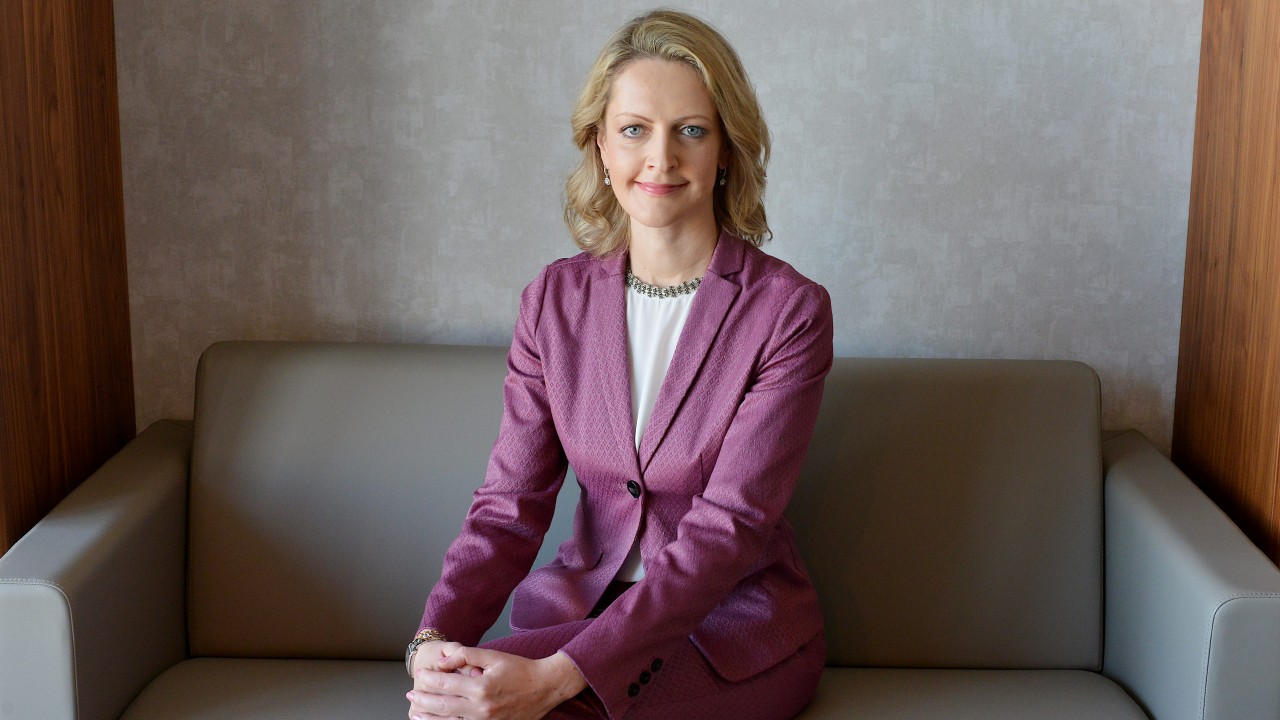 by
Szakszon Réka
2020. dec 18.
Culture opens up new paths
Besides sponsoring musical events, supporting contemporary art has also become a point of focus for Magyar Telekom, this year's winner of the Art is Business Award corporate category. We talked with Daria Dodonova, Chief Financial Officer, about the exhibitions, organized in the Ludwig Museum with the support of the company, the characteristics of a mutually beneficial cooperation and the impact of growing up near the Hermitage in St. Petersburg. 
Corporate Social Responsibility activities play an important role at Magyar Telekom. Which fields are you focusing on within CSR, and where is art and culture located within these areas?
For the past decades, Magyar Telekom made a great effort and displayed serious intention in taking our share of CSR tasks. For us CSR is important in various areas, from the protection of the environment to digital education activities to raising social awareness. Naturally, cultural life is also among these key areas. We are committed to supporting the domestic art scene, making it more colorful. We also keep it in mind that these activities should be in harmony with our brand and corporate values. This year we sponsored two exhibitions of the Ludwig Museum, with professional, infrastructural and financial resources. It is with great pleasure that – having arrived at the company during the spring of 2020 – I could already be part of this cooperation.   
Why is it worth for a multinational company to support exhibitions, artists and culture in general?
We need to have a dialogue with the environment that surrounds us. We would not like our activities to be limited to sitting around, keeping an eye on and following certain events – instead, our goal is to actively participate in various events, react to social, economic, processes and constantly be in touch with society. Culture provides a perfect opportunity for this dialogue. If we think of the cultural and art scene, the thought comes immediately to mind that the objective is to connect people, which resonates with the slogan of our company: "Life is for sharing". An important part of our philosophy is that life is about sharing, and we connect people. So, in this regard, we have common ground, and that is why supporting culture is important for us.
When you arrived to Magyar Telekom in the spring of 2020, you were asked which additional projects you would like to be involved in, besides your financial tasks, You mentioned cultural projects. Why is this field important for you? 
I grew up in St. Petersburg, a city, where culture was present everywhere: I was surrounded by museums, theaters, anywhere I went. During my life, my taste evolved from classical towards contemporary art, from classical towards jazz music. Art is an integral part of my personality. After my arrival to Magyar Telekom, we reviewed the Hungarian culture scene with the communication team, and the events, programs that I should participate in. For me, it was clear that I would like to play a part in cultural programs as well. My colleagues indicated that they were just working on a project with Deutsche Telekom, to exhibit the contemporary art collection in Budapest. 
So the timing was perfect. Does culture play an important role in creating your personal brand as well? Which attributes do people associate with a manager who loves and supports culture?
Diversity and variety are very important – this is what I always said. I feel I need the presence of both finance and culture, it adds a new perspective to my work. Culture is also an integral part of my management style: I often use words and metaphors that are not necessarily characteristic of the finance world, rather they come from my cultural background. My team often hears me say the word "conduct" – in the sense as a conductor works with an orchestra. As Fellini's well-known film, Orchestra Rehearsal is a good example for this, I believe that the orchestra-conductor metaphor can be applied to most areas of life, hence to the world of finance as well.
Finance and culture are two fields relatively far away from each other. On what level are they still connected? 
In both areas, definite systems, recipes are in place. If we go back in time, we find a number of cases when the two areas interconnect. There are many great examples for several areas, circles of interest being present in a single person or during an era. The world of numbers is a lot more tangible, more universal, unified system, but if you observe carefully, you can discover connection points and networks in art as well. 
During the previous decades, Telekom primarily supported music events, concerts, within the field of culture. Why did you turn to contemporary art this year?
These areas were and will always be present in parallel. For the past years, Magyar Telekom has sponsored many music festivals in Hungary: we added the magenta color to the Sopron Telekom VOLT Festival, the Strand Festival, a number of concerts at Lake Balaton, plus the Telekom Electronic Beats Festival. Still, the interest the company takes in arts, dates back to earlier periods: the predecessors of Telekom, Matáv and T-Mobile, formed a significant art collection, mainly including works from outstanding Hungarian artists of the '90s, of which exhibitions were organized. So it is partly a new direction that besides music, we are also focusing on contemporary art, but it is not without a history. Really, we are only opening up even more, discovering new branches of culture.
The Keeping the Balance exhibition at the Ludwig Museum was the first time for the Hungarian public to see the contemporary art collection of Deutsche Telekom. How did you participate in organizing this exhibition?
The collection mainly takes its roots in Eastern Europe, and the exhibition presented the works of artists living here. It was established through a three party cooperation of Magyar Telekom, Deutsche Telekom and the Ludwig Museum. We participated already in preparing, planning, organizing the exhibition: from discussions with the curators through related events to communication. The end result speaks for itself. The exhibition was well received among visitors, colleagues and also the press. What's more, presenting and seeing this valuable collection became a catalyst for us to rediscover fine art.
The next event, organized at the Ludwig Museum, to which you are connected, is the exhibition of physicist Albert-László Barabási, which is centered around network research, data visualization and the relationship between science and art. Was this a fortunate coincidence for Telekom? Is this why you undertook being the main sponsor?
I think, there are a lot of parallels between this exhibition and us. Magyar Telekom is a telecom service provider: we operate networks, connect people. The network is the basis of our service; we put significant attention, expertise and time into constructing, maintaining and operating them. We believe that these links establish connections. Therefore, when the Ludwig Museum contacted us with the idea, we immediately decided that this exhibition is the perfect field for cooperation and were really glad to stand behind the exhibition of the world famous Hungarian scientist. The exhibition was extended until March, so I am hoping that, as the second wave of Covid ends, more and more people will be able to see it.
What did you learn from these two exhibitions, what is your takeaway?
One of the important lessons learned is that there are no crazy ideas, you just have to find enthusiastic people, who would jump into making it happen. If you take an element of contemporary art and mix it with digital networks, this would bring in new audiences, add a new vantage point. For Telekom, the exhibitions opened up a new path to think about our brand, of which we can only benefit.
How do you see the foundations of a good cooperation in the cultural field?
I would not like to use the business win-win term, so instead, I would rather say that a cooperation is good if it enriches and creates value for both parties. In our case, if we can put our knowledge and financial resources into helping, while generating benefits for ourselves, then we are in the right place.
In your opening speech at the Keeping the Balance exhibition, you mentioned that you grew up near The Hermitage museum in St. Petersburg. What kind of cultural heritage do you bring from your home and childhood? 
I brought up the example of the Hermitage in my speech, because I feel really lucky that we lived a five minute walk away from the museum, and that I had also the opportunity to get into ballet and opera performances as well. I first visited the Hermitage with my parents at the age of five – I immediately fell in love with the museum: it felt like I was in a fairytale. And now, when I go back home to St.Petersburg, I always go to the museum, and every time I discover something new, even having been there countless times. Which is not a miracle, because, if I remember well, there are more than 3 million various pieces of art on display in the building: paintings, graphics, sculptures, applied art objects, archeological findings.
What are the works of art and who are the artists that have had a great impact on you already from the beginning?
If I think back to specific pieces of art that served as a basis for my cultural education, I definitely have to mention the works of Rembrandt. Also, one of my favorites from this period is from Vermeer: Young Woman with Earrings. But El Greco also has a painting depicting The Apostles Peter and Paul, which is also impressive. I also very much like the works of Leonardo Da Vinci.
How did you turn from the classics to contemporary, when you moved to Germany?
In Germany, I started to discover completely new forms and eras of art. I was absolutely fascinated by expressionism, especially by August Macke, one of the most influential German expressionist painters and graphic artists. Really, he turned my attention to 20th century and contemporary art. I visited the Museum of Fine Art in Bonn originally because of the works of August Macke, but being there, I discovered that another exhibition of contemporary art could also be seen in the museum and it really got to me.
Now, that, besides the classics, you also take interest in contemporary art, how do you decide which you prefer and when? Can different eras and art forms coexist?
I think there is enough space in my heart for classical and contemporary art alike. If I long for harmony, I turn mostly to classical art and music, but if it is inspiration and creativity I am looking for, I dive into contemporary art and jazz. Internalizing a work of contemporary art is a totally different, new experience – your imagination is at work, since at first it is not obvious what you see exactly, there may not even be a common vantage point anymore, it means something else to everyone.
How much were you able to discover the Hungarian art scene during the past few months? 
Before arriving in Hungary, I made a long list of cultural points of interest, museums I'd like to visit, concert halls to listen to music. Unfortunately, almost directly after my arrival to Hungary the first wave of the Covid epidemic hit, and I had no chance of doing all this. And now, again, we need to be patient, waiting for a time when I can go to museums and concert halls, even meet artists, musicians in person. 
What will be your first place to visit, once the lockdown is over? 
Clearly, my first visit will be to the Hungarian National Gallery. 
And do you already have favorite Hungarian artists?
As for music, my favorite classical composers are Franz Liszt and Imre Kálmán, and in the field of jazz, my favorite is the pianist Károly Binder.
What does the Art is Business Award mean for you personally and for Telekom?
It is a great recognition and honor. We are grateful that our work received particular attention – which is reflected by this award. And what is especially satisfying is that even in the world of business, we can find the time and the people with an interest in culture, to put down something on the table in the field of culture as well. Supporting and organizing both exhibitions opened up completely new horizons for us. This direction is about supporting culture, at the same time, it also strengthens the brand value of Telekom. It feels great, that – although I joined the company only 8 months ago – I could have a little contribution to not only our business success, but also to our cultural-social responsibility.
Réka Szakszon
December 2020