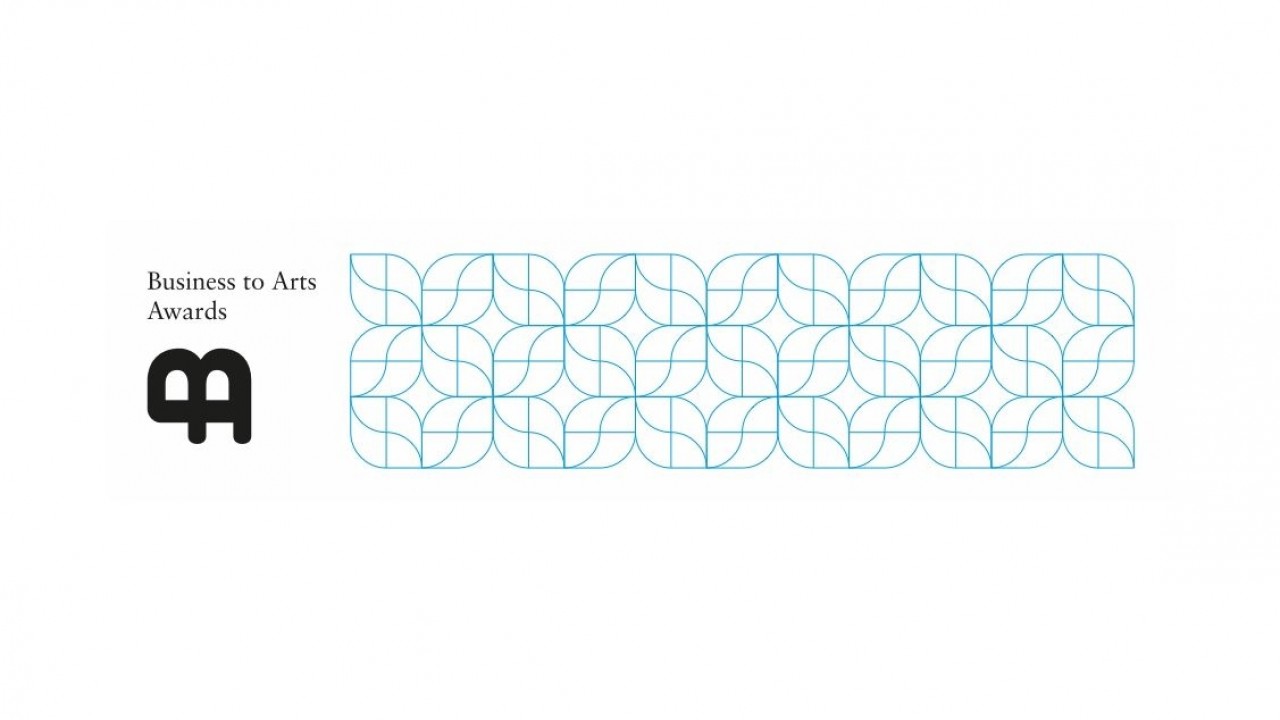 by
businesstoarts.ie/artisbusiness.com
2021. jún 29.
Business To Arts Award: the Winners of 2021 are Announced
"Whether it is the books you are reading, the drama and films you are watching or the music you are listening to, there can be no doubt that the arts have played a significant role helping us and entertaining us over the last year."
The Business to Arts Awards recognize businesses, philanthropists, artists, and arts organizations that develop creative partnerships. Shortlisted partnerships focus on arts sponsorship, commissioning of artists, staff engagement and CSR initiatives, philanthropy, and community engagement. Many of the collaborations are the result of long-term relationships. All of the shortlist demonstrate the importance of supporting the arts and the impact that can be made by quality partnerships.
Despite the significant challenges faced by businesses and the arts over the past year, entries to the 29th Business to Arts Awards were significant. The winning nominations showcase the impact that can be made through collaborative partnerships and demonstrate the importance of supporting the arts at a critical time. Outstanding examples of creative partnerships, which are adapting to the current environment and are setting new standards for arts engagement and backing were celebrated at this evening's online Awards Ceremony. – writes Business to Arts about the award on their website.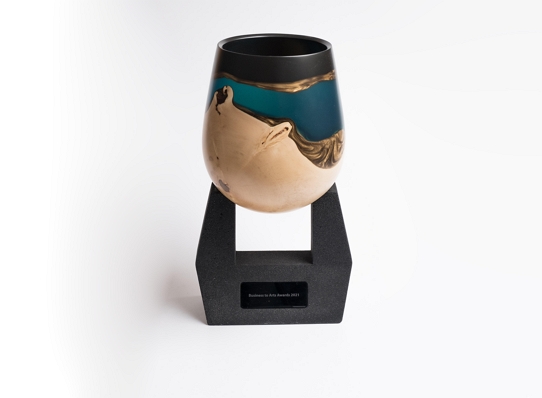 The Business to Arts Award (source: visualartists.ie)
The 2021 Business To Arts Awards were broadcasted on Wednesday, April 21st at 5 pm on the website of The Irish Times, where it is still available to playback. 
This was the 29th annual Business To Arts Awards ceremony; the winners were chosen in nine categories.  
The winners in 2021 are: 
Best Large Sponsorship supported by Arthur Cox
Winner: Davy & National Concert Hall: Davy and the National Concert Hall started their partnership in 2019 when Davy become the 'Innovation Partner' of the venue and the primary sponsor of NCH's Contemporary Music Program. In 2020, they organized the 'Imagining Ireland' series of ten live-stream concerts together.    
Winner: Aerogen & Druid: with Aerogen's support, Druid Theatre Company could put DruidGregory to an outdoor format during the Covid-19, bringing world-class theatre into the heart of Galway communities. They toured 13 outdoor venues and engaged with schools and other communities. As a result, two great Galway playwrights, Lady Augusta Gregory and Tom Murphy become accessible to many people, having diverse backgrounds. 
Feargal Hynes, Druid's Executive Director, said: "We were delighted to partner with Aerogen to make theatre available to people in their own communities. At a time when Aerogen were part of the extraordinary frontline fight against Covid-19, they were also helping us make theatre accessible. We are thrilled that the programme has been recognized with this reward and we look forward to developing it further in the future." 
Best Long Term Partnership supported by The Irish Times
Winner: An Post Irish Book Awards: An Post is the sponsor of Irish Book Awards – one of Ireland's most popular literary art events – since 2018. With the partnership, An Post supports authors, publishers, booksellers, local bookshops, authors, postal and post office staff in bringing the gift and joy of reading and sharing books to people of all ages and interests.       
Best Use of Creativity in the Community supported by Irish Life
Winner: Flogas & Galway International Arts Festival with John Gerrard for 'Mirror Pavilion': John Gerrard created Mirror Pavilion for Galway 2020, European Capital of Culture. He was commissioned by GIAF and created a fantastic installation featuring a large-scale structure clad in highly reflective mirror panels incorporating a high-resolution LED screen.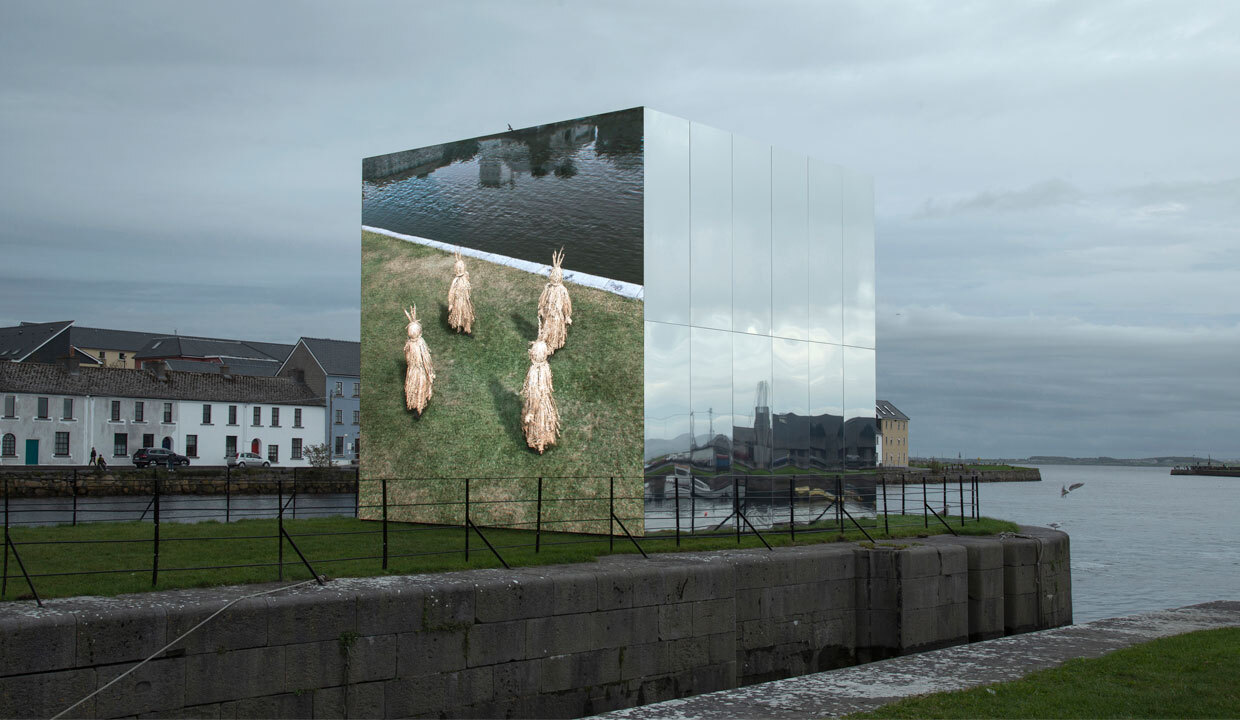 John Gerrard: Mirror Pavilon, 2020 (source: giaf.ie)
Best Use of Creativity in the Workplace supported by ESB
Winner: Iarnród Éireann / Irish Rail & Christopher Steenson for 'On Chorus': Sound artist Christopher Steenson created the sounds of the spring dawn chorus, which was played every morning between 8 am and 9 am from 16 to 29 November 2020 at over 65 train stations across Ireland. The concept was a direct response to the pandemic. 
Jim McNaughton Perpetual Award for Best Commissioning Practice
Winner: Accenture & Paul Harrison for 'Quinquaginta' and Fuchsia MacAree for 'Fierce Determination': Accenture commissioned the two artists to help celebrate its 50th anniversary in Ireland in 2019. Paul Harrison created a sculpture called 'Quinquaginta,' and Fuchsia MacAree – illustrator – made three pieces titled 'Fierce Determination.'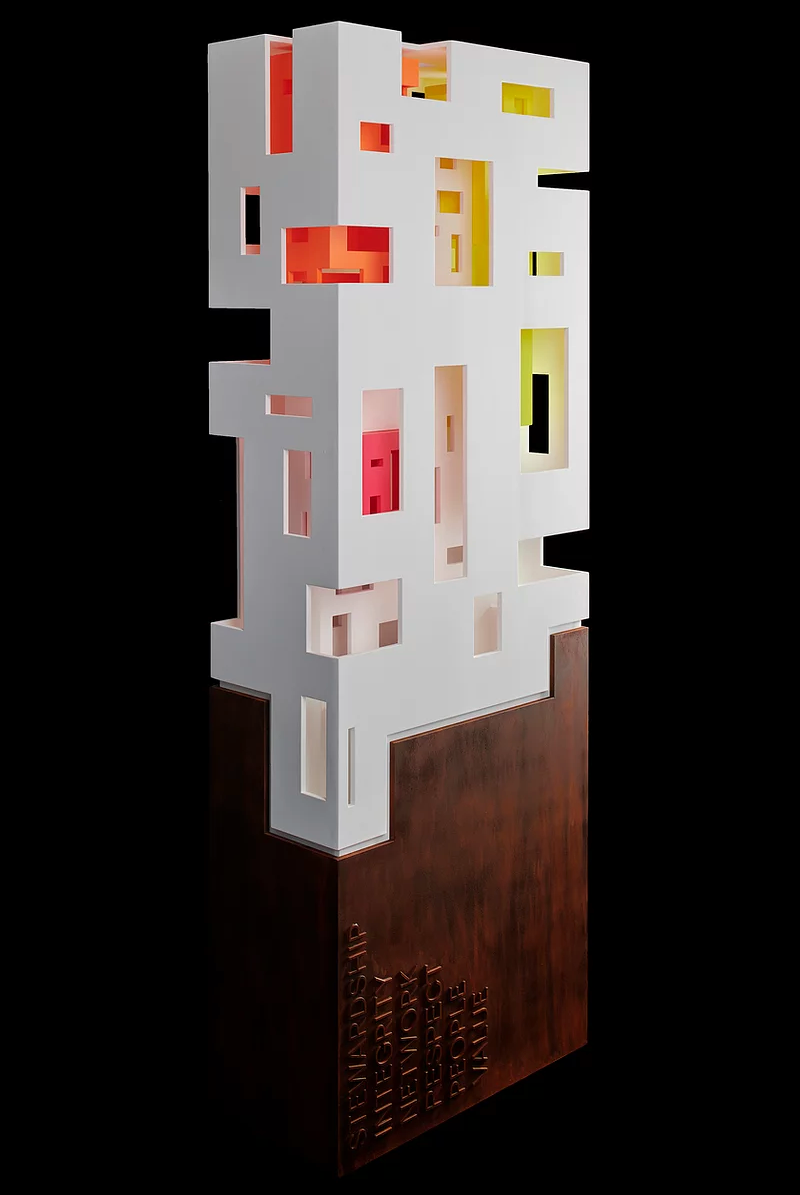 Paul Harrison: Quinquaginta (source: paulharrisonartist.com)
Best Philanthropic Support to the Arts supported by the Arts Council
Winner: Naughton Foundation & Museum of Literature Ireland: The Naughton Foundation is one of the supporters of the Museum of Literature Ireland. They helped them open their doors to the public. The project builds on the National Library's rich tradition of literary collections and exhibitions. It showcases literary treasures and celebrates Ireland's literary culture. 
Judges' Special Recognition Award supported by Accenture
Winner: Children's Books Ireland for partnerships with An Post, Brown Bag Films, Community Foundation for Ireland, Ecclesiastical, KPMG, Rethink Ireland, and William Fry: Children's Book Ireland's vision is that "every child is a reader." They recieved the award for a selection of their partnerships. 
The Jim McNaughton / TileStyle €10,000 Bursary for Artists was awarded to:
Miriam Kaczor (flutist): Miriam is a Polish-born, Dublin-raised flutist and freelance photographer. She equally enjoys performing with early music ensembles, modern orchestras, and contemporary groups and capturing other artists and their creative endeavors. 
The creative projects are either at a national level in Ireland or Dublin- or Galway-based. 
Andrew Hetherington, Chief Executive of Business to Arts  – who was also one of our speakers at Art is Business Conference – said: Whether it is the books you are reading, the drama and films you are watching or the music you are listening to, there can be no doubt that the arts have played a significant role helping us and entertaining us over the last year. With the winners of the Business to Arts Awards, we recognize the best sponsorships and partnerships of the last 18 months and acknowledge their contributions to society. Congratulations to each winner."
Pat O'Doherty, CEO of ESB (which supports the Best Use of Creativity in the Workplace category said: "As a long-term patron of the arts in Ireland, ESB recognizes the important role that artists play not only in recording and interpreting social and economic developments but also in engaging communities and stimulating innovation and creativity. We are very proud to support the Best Use of Creativity in the Workplace Award and the ongoing work of Business to Arts. Congratulations to Iarnród Éireann / Irish Rail and Christopher Steenson for 'On Chorus'. This is a unique and really imaginative project to bring creativity into the workplace and actively engage staff and the public around the issue of biodiversity." 
The congratulations of the other Business to Arts leaders can be found in this article on their website. 
Business to Arts Awards, 2021
Cover Photo source: irishtimes.com