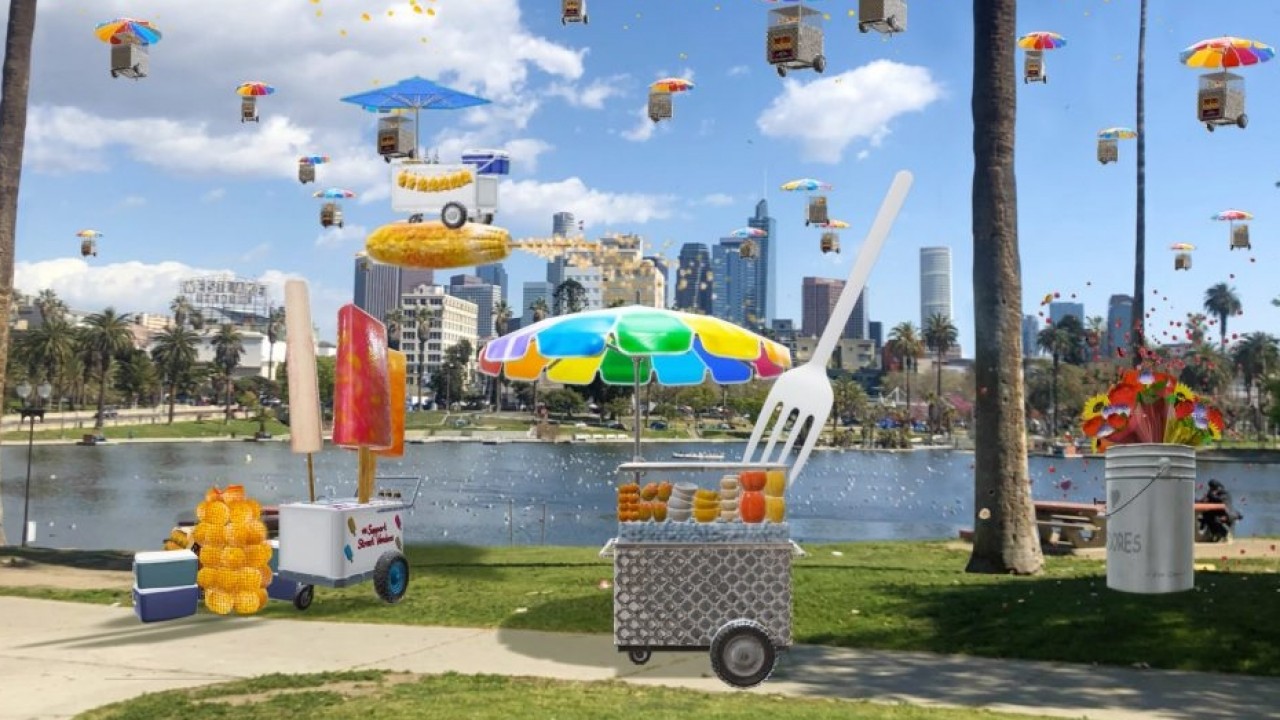 by
lacma.org/news.artnet.com/artisbusiness.hu
2021. ápr 15.
Monumental Perspectives: Snapchat partners with LACMA
"We're thrilled that our augmented reality technology has become an immersive medium for advocacy and representation. We look forward to continuing to empower artists and Lens Creators and support their desire to share untold stories through a new lens."
Five artists are creating augmented-reality monuments – only available on the famous photo messaging app, Snapchat – as part of a collaboration with the Los Angeles County Museum. 
The project is called Monumental Perspectives, and it is a multi-year collaborative partnership. The work of the first five artists – Mercedes Dorame, I.R. Bach, Glenn Kaino, Ruben Ochoa, and Ada Pinkston – was released a few days ago; they designed virtual artworks with augmented reality. The idea is to create virtual monuments in honor of essential characters from Los Angeles communities, for example, an enslaved woman, local street vendors, and indigenous people. 
As Michael Govan, the director of LACMA explained, "The resulting monuments… are not only relevant to issues of today – Los Angeles, civic space, community – but also to the medium of art. [...] opening doors to new ways of thinking about art in both physical and virtual spaces." They wish to widen the conversation about the function and form of modern-day monuments. 
The augmented reality artworks will be displayed to visitors at different site-specific locations across Los Angeles, including LACMA's Wilshire Boulevard campus, MacArthur Park, and Los Angeles Memorial Coliseum. The audience can experience these 21st-century monuments to critical figures and moments of the region's past and present through the Snapchat application by visiting these locations. The artworks are also accessible to anyone worldwide, no matter where they are, by scanning the codes on LACMA's website with the app. 
Monumental Perspectives is also funded by The Monuments Project besides Snap Inc. (the parent company of Snapchat). The project is part of the Mellon Foundation's five-year $250 million initiative to rethink historical monuments in the U.S. The Mellon Foundation is the largest funder of the arts, culture, and humanities in the country.   
Elisabeth Alexander, the president of the Mellon Foundation, said in a statement: "The virtual monuments and murals that these five artists have created illuminate how we can reimagine and rebuild commemorative spaces across the country, and embodies the visionary work we aim to support through The Monuments Project. Like these immersive commemorations, we're excited to see more artists using innovative means – beyond bronze and stone – to memorialize historical figures, ideas, and movements and to recontextualize existing monuments that teach too little of our collective history in public spaces." 
Mercedes Dorame: Portal for Tovaangar, 2021
Mercedes has created "an immersive portal that links past, present, and potential future worlds. Viewers engage with what continues to inspire many Native people: the sky, the land, indigenous plant life, celestial bodies, and the infinite ability to connect to these entities and with each other. This work proposes a community healing opportunity, an exploration of truth in understanding Indigenous intrinsic knowledge, and reconciliation," writes LACMA's website.  
I.R. Bach: Think Big, 2021
Bach's approach is different from the well-known definition of a monument. Think Big is designed to inspire self-reflection. "The aspiration is to collectively build an invisible monument of thought." The artist tries to motivate the audience to think about the phrase, "See yourself in others and others in you." 
Glenn Kaino: No Finish Line, 2021
The digital monument of Kaino tells stories along the 1932 L.A. Olympic marathon route highlighting narratives of daily life making history, narratives that connect generations of people and organizations. "The symbolism of a marathon reminds the viewer that the path of history is long and that making positive change and building an equitable world requires stamina."  
Ruben Ochoa: ¡Vendedores, Presente!, 2021
This artwork is about "L.A.'s complex history with street vendors." The artist draws inspiration from his family history and created the monument to serve "as a multilingual resource for on-the-ground entrepreneurs and a call for advocacy." The pandemic had a significant impact on the potential growth of street vendors, and this work helps the audience learn more about them.      
Ada Pinkston: The Open Hand is Blessed, 2021
This memorial is about Biddy Mason, her spiritual philosophy, her story about resilience. After walking thousands of miles as an enslaved person, she arrived in Los Angeles and worked as a midwife and nurse. Later she became one of the wealthiest Black women in the US. The artist works with images of African American people from Biddy's age. 
"If you hold your hand closed, nothing good can come in. The open hand is blessed, for it gives in abundance, even as it receives." — Biddy Mason (1818–1891)   
The augmented reality monuments are built with Snap Lens Creator. Snapchat writes on their website, "we're thrilled that our augmented reality technology has become an immersive medium for advocacy and representation. We look forward to continuing to empower artists and Lens Creators and support their desire to share untold stories through a new lens."
You can find videos on the project and the artists' and other participants' thoughts about the augmented reality monuments on LACMA's YouTube channel.  
Cover Photo: Ruben Ochoa: ¡Vendedores, Presente!, 2021